Getting Started
---
Sitecast is a powerful and user-friendly platform for rapidly building optimized web projects -- no servers necessary.
Paired with our integrated content manager, Sitecast enables your organization to manage all of your resources in a centralized repository, display the content on any device, and give your team, employees, members, or anyone else access to only the information you want... all from your site.
---
Let's get familiar with Sitecast's work environment.
1. Sitecast Dashboard - Sitecast provides a dashboard that enables you to manage, link, and rapidly deploy your web projects to the production server.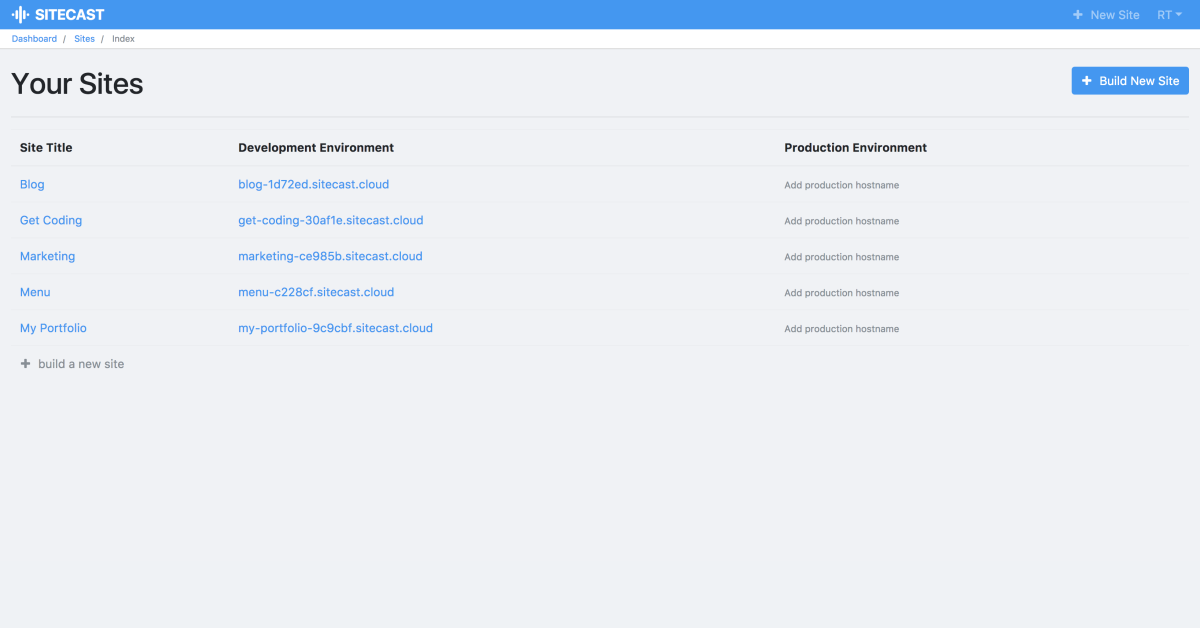 Secure Staging and Production Server
Configuring the development environment and the deployment have always been a long and repetitive journey for developers. We made it simple for you! With a few clicks of a button, you will instantly have a playground to enable you to build on the web. Once you are ready to deploy your project, you can easily link your web projects and deploy to your favorite platform (Amazon Web Services, Google Cloud Platform (Coming Soon...) and other platforms (Contact our team to integrate at [email protected]). No back-end expertise needed!
Also, SSL is automatically provisioned to secure all the content on the site that will boosts the credibility of each site deployed from Sitecast Cloud Platform.
Highly Optimized Serverless Sites
Getting over ninety percent pagespeed on a basic page takes a lot of optimization effort. You're off to a great start as we boost your rating to make your site search engine friendly.
With serverless, server management is off your technology stack. Plus, you only pay for the services you use and no need to own and maintain an expensive server to host your projects. You only need to setup the CDN once and your website hosting should almost never fail.
2. Sitecast Editor - A cloud-based editor used to design and rapidly build front-end interface. The builder is integrated with the content manager which makes the extraction of data easy and much more manageable.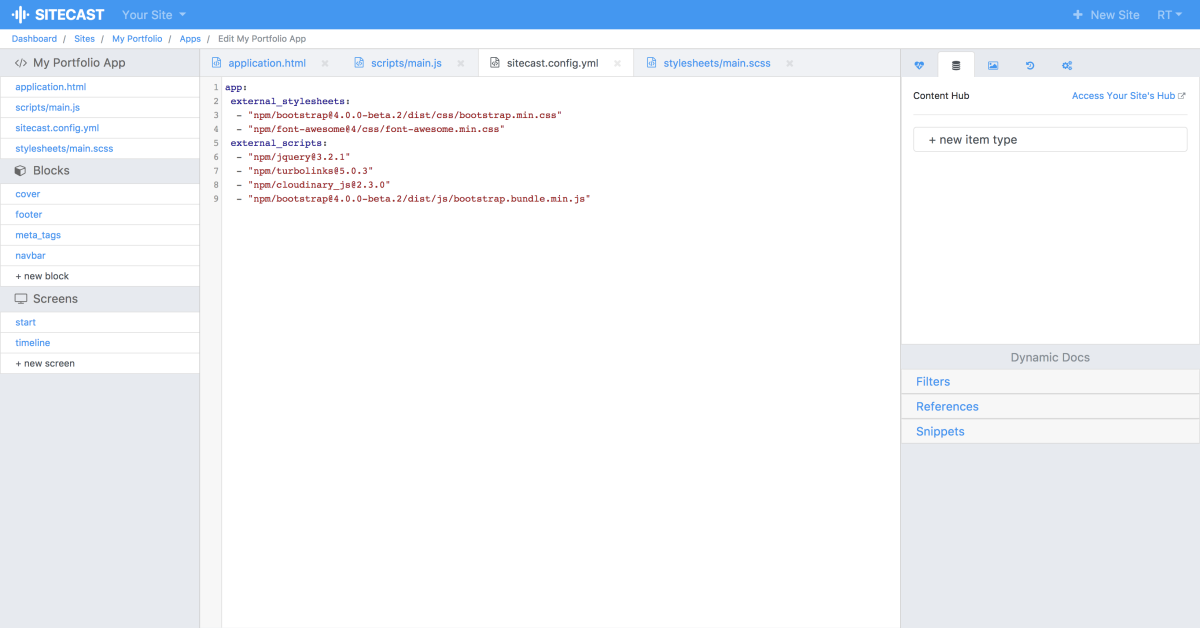 Unlimited Javascript API Integration
With our unlimited Javascript API integration we want to help you rapidly connect third party APIs using our platform. Whether it is a Javascript API, Software, or Hardware API Integration, you can leverage our cloud infrastructure to rapidly build user interface to your web projects.
Version Control
Sitecast's Builder has a built-in version control. It enables the user to view, edit, and merge the changes from the previous revisions. You do not need to worry about becoming a Git or Subversion expert -- cloning, revisioning, sharing, etc. All you need to do is create and share your account to your peers! Stay tuned for dynamic changes to boosts your pair programming experience.
3. Content HUB - Built-in content manager to manage all the items and resources on your centralized repository. Site admin will be able to add, edit, modify, destroy, and optimize shared resources.
We have decoupled the data management of your app. You own your own data. We created a sleek user interface to enable you to manage your resources at ease. Our architecture is designed to enable your organization to push and pull data through our API which is easily accessible through the editor. All are maintained and secured by our security and data experts.
Sitecast is built by developers, for developers.
---
Not a developer?
A custom site requires you to either be or hire a developer. Our team provides design and development services to help you build your ideal cloud based application.
---
Questions or feedback?
We are here to help!
Our team is happy to hear from you. We would gladly help and collaborate, whether it is about code or any questions you may have about our products.